Do you struggle with dry, brittle hair and you are on the verge of giving up on your natural hair? You came to the right place. I was in this situation some months back. My hair was growing well but it just was so dry that it kept breaking at every pull. I have a type 4c hair and I would explain what I did to make this stop. In this series, you will learn how to treat dry hair.
As someone who likes to use natural ingredients on my hair, I struggled with finding deep conditioning hair products that I liked. Also, a lot of them had chemicals that I wasn't sure about. So, I had to research on DIY ingredients that I could use that would give me the results I wanted.
It was on this quest that I found these ingredients. Funny enough, about two of them are sitting on your kitchen shelf right now. The others, you just need to dash to your nearest grocery store to get them. It takes less than 10 minutes to prepare but it works like magic.
I present to you (drum roll)
Avocado and Honey DIY deep conditioner!!!
Ingredients
Avocado
Honey
Aloe Vera
Coconut Oil
The quantity depends on the mass of hair on your head. I use 2 ripe medium sized avocados, 2/3 tablespoonful of honey, 1 tablespoonful of coconut oil and 2 aloe vera leaves. When I scrape the gel, 1 get 2/3 spoonful of aloe vera gel. I like to use generous amounts of this mix on my hair 😊
Why these ingredients?
Avocado:
Avocado is a natural moisturizer. It only makes sense to make it part of the ingredients we will use to treat dry hair. We often hear that avocados have healthy fats so, we should eat them regularly. These healthy fats are also good and beneficial for the hair especially dry, dehydrated hair.
They help promote hair growth and prevent hair loss. Avocados are great source of biotin and we know that biotin helps hair and nails grow. So, using avocados in your hair can help stimulate hair growth.
Avocados can also help strengthen hair. Avocados are rich in vitamins which nourishes the scalp and helps hair look healthy, shiny, and hydrated.
Honey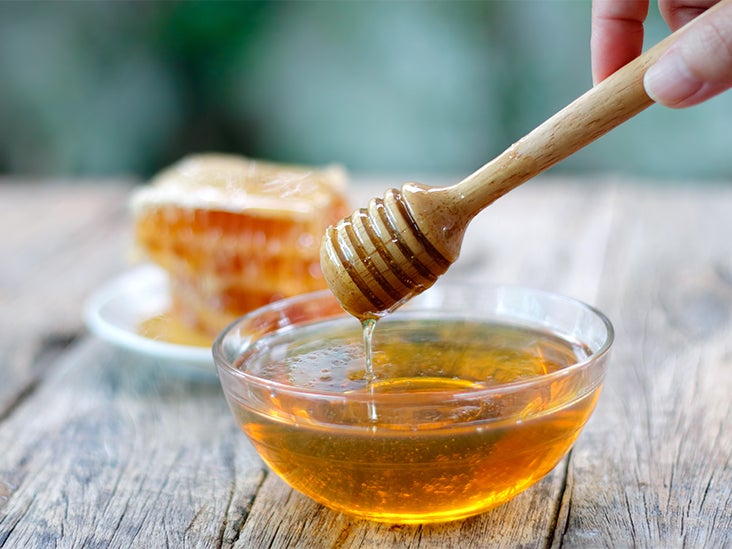 It has humectant properties which makes it a great hair moisturizer. Also, humectants bond with water molecules and absorbs moisture from the air. It seals it into the hair, adding moisture to dry strands.
It is also an emollient. Emollients smooth the hair follicles, and provide natural softness, adding shine to dull hair. By moisturizing and locking in shine, honey can help restore the natural luster of your hair.
It has nutrients and antioxidants which helps strengthen hair follicles. This in turn leads to less hair breakage.
Coconut Oil
You will agree that Coconut oil is easily absorbed deep into the hair shaft due to its long straight structure. This is because it is majorly made up of a fatty acid called lauric acid.
The vitamins and essential fatty acids in coconut oil helps nourish the scalp and remove sebum build-up from hair follicles.
It is great for replenishing moisture in the hair and helps with eliminating dandruff.
It can also stop those pesky dandruff flakes from making a home on your hair rubbing coconut oil on your hair restores scalp health and reduces flaking.
Aloe Vera
This nature wonder is rich in minerals and vitamins that can help nourish and strengthen the hair.
It has anti-inflammatory properties can help reduce scalp irritation and reduce inflammation
Vitamins A, B12, C and E present in Aloe vera helps develop healthy hair follicles.
How to Use Our Mix to Treat Dry Hair
1. Mix the ingredients together. You can use a spoon to mix or a blender especially to make sure the mix is free of lumps.
2. Wash your hair. It is important your hair is washed so that the mixture can penetrate the hair follicles.
3. Apply the mix to damp hair. Apply from the ends to the roots of your hair. Make sure you use generous amounts at the ends because the natural hair oil (sebum) doesn't usually get there.
4. Use a shower cap or a plastic bag to cover your hair. This helps the ingredients penetrate your hair. Leave the mixture in your hair for 30minutes.
5. Use warm water to rinse the hair. Also, you can use a shampoo. It is amazingly very easy to rinse and it does not leave putrid smell.
6. After washing it out, do comb and style your hair. You would be surprised at how soft, lush and healthy your hair would look and feel. You can leave your hair out for days without using any products and it would still remain soft and lush.
Using this ingredients over time, my hair feels healthy, soft and lush. I do not think other ingredients works like this does. But, I am open to learning and you can give suggestions of other DIY deep conditioning ingredients in the comments section. I would try to use them and give feedbacks.
Was this helpful?


Did you learn anything? Please, share with friends